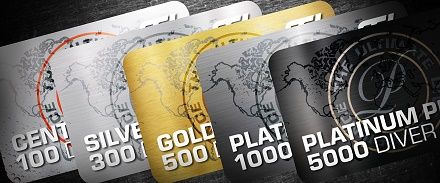 Recognition certificates
Complete your specialty programs with the applicable SSI Specialty Certification Card and receive te SSI Recognition Ratings: Specialty Diver, Advanced Open Water Diver, And Master Diver For FREE.
Reward Yourself! You Deserve It!
You deserve to reward yourself as you reach new milestones in your diving adventures.
SSI's system of recognition levels is a great way to do this. It's an opportunity to commemorate your hard-won accomplishments and show the world you are one of diving's elite.
Whether certified through Scuba Schools International or another agency, you are eligible for SSI's recognition program.
Every time you reach a new milestone - 100, 500, 1,000 or 5,000 dives - you automatically earn another recognition card.
These cards symbolize excellence, commitment and loyalty in diving.
The more dives you complete, the higher levels of recognition you will earn.
No additional training beyond Open Water Diver is required.
All you have to do is get out there and dive!