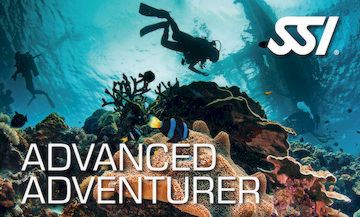 Advanced Adventurer
Immediately after obtaining your diving license you can go through the SSI Advanced Adventurer.
Your instructor will introduce you to 5 dives that you have chosen yourself, your best diving. If you integrate the deep dive, you can use this license to 30 meters. In the Advanced Adventurer you will learn your skills, learn skills, dive ability during the night dive and make that specialty. Dive that you would like.
Theory:
The SSI learning system offers you the possibility to choose when you want to study, so you can learn the information at your own pace, when it fits best in your schedule.
Age
- From 10 years
Minimal training:
Duration
- At least 2.5 days with 5 dives
Medical statement
- Medical certificate must be filled in completely and the student must have good health.
SSI Advanced Adventurer