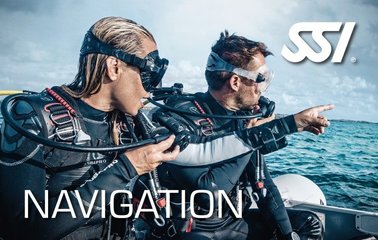 Navigation
To become a safe and confident diver, it is essential to be able to navigate properly.
You will learn how to navigate with a compass, as well as navigation skills without a compass.
You will learn how to estimate distances, how to navigate different search patterns, how to find your way to waypoints and how best to find your way back.
The most important skill under water is navigation, all the time you invest in this pays for itself in comfort!
Do you always wonder how your SSI instructor always manages to find the way back to the departure point or to the boat?
If so, then you need the navigation program to get an explanation of this miracle.
During this specialty you will be taught everything you need to know to navigate properly under water.
This ensures that you can find your own way underwater and it is not always a surprise where you are now and where you should go.
During the 2 dives of the SSI Navigation program you will learn how to navigate with a compass and how to use natural navigation skills.
You will also learn to estimate distances and navigate different search patterns.
You will find your way to different waypoints and you will always be able to find your way back to the starting point.
Many certainly have a well-developed natural sense of orientation.
Unfortunately, that only works under water to a limited extent because people can only use their senses to a limited extent in a foreign environment.
SSI offers a structured navigation program to promote fun and safety in diving.
After completing the program, you will receive the SSI Navigation Specialty Certificate.
Age:
- From 10 years old
Minimum prior education:
- Open water diver certification
Duration:
- 1 day
Number of dives:
- 2 open water dives
Medical Statement:
-
Medical statement
must be completed in full and the student must be in good health.
SSI Specialty Course: Navigation

The SSI Specialty Course: Navigation includes:

- SSI Online Navigation Manual including Videos

- Online Logbook

- Online training at

www.Divessi.com

or

DiveSSI APP

- All equipment required for diving

- All instructions

- 2 Open water dives

- Transport diving school to dive site

- The Digital SSI Specialty Course: Navigation Certificate

- 9% OB


Max 4 people on 1 instructor.
After passing the SSI Navigation Course 10% discount on a guide dive!