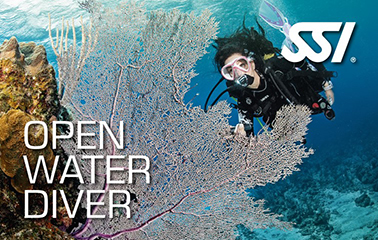 Open Water Diver
Becoming an Open Water Diver is the best way to start your scuba adventure with worldwide recognition as a result!
With personal training and enough time, we'll make sure you really feel comfortable underwater with the skills and equipment you use.
In general, an Open Water Diver course consists of three parts:
Theory, Confined Water Dives and Open Water Sessions.
Theory:
The lesson system allows you to choose when you want to study, so that you can learn information at your own pace, when it best fits your schedule.
Confined Water Dives + Open Water Dives:
During the Open Water Diver course you will make the 4 mandatory confined water dives & amp; open water dives.
With us you dive all 4 mandatory confined water dives and open water dives safely empty the tank to 50 bar!
The time underwater is determined by your own air consumption and not by the diving school!
Total Teaching System:
From January 1, 2015 you will create the theory on your computer, tablet or phone.
Via the
APP
it is now easy to go through the theory by means of the digital book and videos.
The questions are created via the
APP
or via the
website
.
This allows us to easily track you and leave more time in the water.
Now you will think do I need the internet for this?
No, you can read the book online and offline and make questions.
Contents:
Theoretical knowledge and practical skills are taught in a relaxed manner.
Naturally, this is done under the supervision of an experienced instructor.
Another attractive prospect is that the obtained certificate will open the doors to further courses.
You will learn:
Recognize issues that are important for choosing the right diving equipment
How to plan and then perform the dives
How to avoid any problems and how to deal with them
The scuba gear you use
Using your basic scuba gear, including a dive computer and some standard accessories.
SSI Open Water Diver

The SSI Open Water Course includes:
- SSI Open Water Manual including Videos
- Online Logbook
- Online training on www.Divessi.com or DiveSSI APP
- All equipment needed for diving
- All instructions
- Transport dive school to dive site
- 4 Confined water dives + Open water dives
- The Digital SSI Open Water Diver Certificate
- 9% OB

After passing the SSI Open Water Course 10% discount on one guide dive.



| | | | | |
| --- | --- | --- | --- | --- |
| | Naf | 725,- | $ | 415,- |
| SSI Junior Open Water Diver ( +10 ) | Naf | 725,- | $ | 415,- |
| | Naf | 600,- | $ | 340,- |

SSI Open Water Diver + Perfect Buoyancy Specialty Course

Do you want to be able to regulate your buoyancy better, use less breathing gas and float above the seabed without effort?

In the SSI Perfect Buoyancy program you will learn the skills and techniques you need for a optimal diving experience.

You will be even more relaxed in the water and learn how to make the most of your equipment.

The SSI Open Water Diver + Perfect Buoyancy Specialty Course includes:
- SSI Open Water Manual including Videos
- SSI Perfect Buoyancy Handbook
- Online Logbook
- Online training at www.Divessi.com or DiveSSI APP
- All equipment needed for diving
- All instructions
- Transport diving school to dive site
- 4 Confined Water Dives + Open Water Dives
- 2 Perfect Bouyancy
- The Digital SSI Open Water Diver Certificate
- The Digital SSI Perfect Bouyancy Certificate
- 9% OB

After passing the SSI Open Water Diver + Perfect Bouyancy Specialty Course 10% discount on one guide dive.

| | | | | |
| --- | --- | --- | --- | --- |
| SSI Open Water Diver + Perfect Buoyancy Specialty Course | Naf | 1075,- | $ | 560,- |

SSI Open Water Diver + 1 Ecology Program with 1 extra dive


The SSI Open Water Course + 1 Extra Dive includes:
- SSI Open Water Manual including Videos
- SSI Ecology Program Handbook
- Online Logbook
- Online training at www.Divessi.com or DiveSSI APP
- All equipment required for diving
- All instructions
- Transport diving school to dive site
- 4 Confined water dives + Open water dives
- 1 Extra Dive
- The Digital SSI Open Water Diver Certificate
- 9% OB

After passing the SSI Open Water Diver + 1 Ecology Program with 1 extra dive 10% discount on one guide dive.

| | | | | |
| --- | --- | --- | --- | --- |
| SSI Open Water Diver | Naf | 995,- | $ | 570,- |
| SSI Junior Open Water Diver ( Leeftijd +10 ) | Naf | 995,- | $ | 570,- |

SSI Open Water Diver + Enriched Air Nitrox Specialty Course

In the Enriched Air Nitrox program you will learn all the necessary rules to plan Nitrox dives and to use Nitrox safely.

An important part of the program is analyzing your tank before a Nitrox dive.

The SSI Open Water Diver Course + Enriched Air Nitrox Specialty Course includes:
- SSI Open Water Manual including Videos
- SSI Enriched Air Nitrox Handbook
- Online Logbook
- Online training at www.Divessi.com or DiveSSI APP
- All equipment needed for diving
- All instructions
- Transport diving school to dive site
- 4 Confined Water Dives + Open Water Dives
- 2 Nitrox Open Water Dives
- The Digital SSI Open Water Diver Certificate
- The Digital SSI Enriched Air Nitrox Certificate
- 9% OB

After passing the SSI Open Water Diver + Enriched Air Nitrox Specialty Course 10% discount on one guide dive.

Learn to dive privately

At Dive Center van de Ven you have the option to make the Open Water Course completely private.
All attention for you / you!

The SSI Open Water Course includes:
- SSI Open Water Manual including Videos
- Online Logbook
- Online training on www.Divessi.com or DiveSSI APP
- All equipment needed for diving
- All instructions
- Transport dive school to dive site
- 4 Confined water dives + Open water dives
- The Digital SSI Open Water Diver Certificate
- 9% OB
- FREE SSI Plastic certification card.

After passing the Private Open Water Course 1 FREE Guide Dive.

| | | | | |
| --- | --- | --- | --- | --- |
| | Naf | 1400,- | $ | 800,- |
| SSI Junior Open Water Diver ( Leeftijd +10 ) | Naf | 1400,- | $ | 800,- |
| | Naf | 1150,- | $ | 650,- |