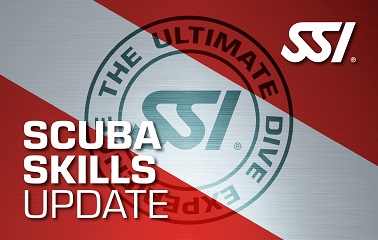 Scuba Skills Update
"Has your last dive been a while ago? Please do an update!
"Regain the feeling of complete confidence when you haven't dived for a while.
In the Scuba Skills Update, you and your instructor practice the skills you have learned in the Open Water Diver course.
The Scuba Skills Update includes online theory review, briefing, 2 open water dives, and debriefing.
Age:
- From 10 years old
Minimum prior education:
- Open water diver Certification / Junior Open Water Diver
Duration :
- 1 day
Number of dives:
- 2 Open Water Dives
Medical statement:
-
Medical Statement
must be completed in full and the student must be in good health..
Scuba Skills Update
The SSI Scuba Skills Update includes:
- SSI Online Scuba Skills Update Handbook including Videos
- Online Logbook
- Online training at www.Divessi.com or DiveSSI APP
- All equipment required for diving
- All instructions
- 2 Open Water Dives
- Transport diving school to diving location
- The Digital Scuba Skills Update Certificate
- 9% OB
Max 4 people on 1 instructor.
After passing the SSI Scuba Skills Update Course 10% discount on a guide dive!