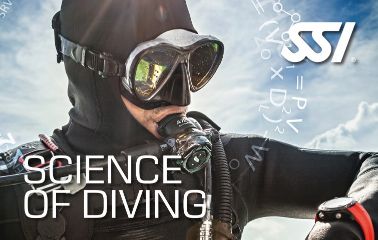 Science of Diving
In dit programma wordt diep ingegaan op natuurkundige aspecten, fysiologie, decompressietheorie, de onderwaterwereld en de duikuitrusting.
Deze opleiding is verplicht voor de meeste SSI Dive Professional-programma's en een aantal Extended Range-programma's.
Na afronding van het programma ontvang je het SSI specialtybrevet Science of Diving.
Theorie:
Het SSI lessysteem biedt je de mogelijkheid om te kiezen wanneer je wilt studeren, zodat je de informatie kunt leren op jouw eigen tempo, wanneer deze het beste past in jouw schema.
Minimale vereisten:
Leeftijd:
- Cursist dient minimaal 15 jaar oud te zijn bij aanvang van de cursus.
Medische Verklaring
-
Medische verklaring
dient volledige ingevuld te worden en cursist moet beschikken over goede gezondheid.
- Cursist dient minimaal te beschikken over een SSI Open Water Diver brevet of een vergelijkbaar brevet van een andere organisatie.
Science of Diving
Inclusief vervoer duikschool naar duiklocatie , duikuitrusting , boek & 9% OB.
Exclusief registratie fee.