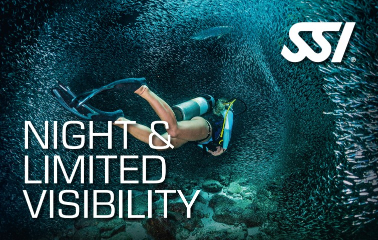 Night Diving & Limited Visibility
S'nachts duiken betekent opwinding, avontuur en fascinatie tegelijkertijd!

Als de zon ondergaat, trek je je duikuitrusting aan zet je je masker op en stop je je automaat in je mond.
Je ademt diep in en stapt de onderwaternacht in.
Hoewel je deze omgeving al veel vaker hebt gezien, zak je deze keer een nieuwe wereld in en kijk je hoe die tot leven komt onder de gloed van je duiklamp.

Je kunt de opwinding en sensatie en het avontuur van nachtduiken meemaken als je de SSI Night diving and limited visibility specialty afrondt.
Je leert over de planning en uitrusting van nachtduiken en hoe je 's nachts navigeert.
Je oefent dit in twee nachtduiken, en je maakt kennis met een hele nieuwe groep dieren die tevoorschijn komt nadat de zon onder gaat.

Na afronding van het programma ontvang je het SSI specialtybrevet Night Diving & Limited Visibility.

Leeftijd:
- Vanaf 10 jaar
Minimale vooropleiding:
Duur:
- 2 avonden
Aantal duiken:
- 2 buiten water duiken
Medische Verklaring:
-
Medische verklaring
dient volledige ingevuld te worden en cursist moet beschikken over goede gezondheid.
Night Diving & Limited Visibility

Bij de SSI Specialty Cursus: Navigatie zit inbegrepen:
- SSI Online Night Diving & Limited Visibility Handboek inclusief Video's
- Online Logboek
- Online training op www.Divessi.com of DiveSSI APP
- Alle uitrusting benodigd voor het duiken
- Alle instructies
- 2 Buitenwaterduiken
- Vervoer duikschool naar duiklocatie
- Het Digitale SSI Specialty Cursus: Night Diving & Limited Visibility Brevet
- 9% OB

Max 4 personen op 1 instructeur.
Na het behalen van de SSI Night Diving & Limited Visibility Cursus 10% korting op een gidsduik!