SSI Diamond center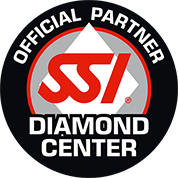 Duikcentrum van de Ven heeft als enige duikcentrum op Curaçao de status van SSI DIAMOND CENTER gekregen.
Als team van Duikcentrum van de Ven zijn wij erg trots dat wij deze erkenning in ontvangst hebben mogen nemen.
De status SSI Diamond Dive Resort is een erkenning voor SSI Dive Resorts die streven naar voortreffelijkheid en leiderschap op het gebied van bedrijfsvoering.
De status SSI Diamond Dive Resort is een privilege. Dive Centers en Dive Resorts met deze status worden regelmatig gecontroleerd om er zeker van te zijn dat zij nog altijd aan de normen voldoen of deze overtreffen.
Een Dive Resort kan in aanmerking komen voor deze status als het aan alle vereisten voor een SSI Dive Resort voldoet of deze overschrijdt en aan de volgende aanvullende vereisten voldoet:
✔️ Alle medewerkers die opleidingen verzorgen, moeten gekwalificeerde SSI Professionals met actieve status zijn.
✔️ Het bedrijf mag uitsluitend SSI opleidingsprogramma's en brevetteringen van instapniveau tot en met duikprofessional aanbieden. Dit geldt niet voor programma's waarvoor SSI geen gelijkwaardig programma aanbiedt.
✔️ Het bedrijf hanteert het SSI Equipment Service Program voor alle uitrustingen van instructeurs, in de verhuur, van de medewerkers en in de verkoop.
✔️ Het bedrijf organiseert of neemt deel aan minimaal één omgevingsgerelateerde activiteit/schoonmaakactie per jaar.